You've seen it at Olympics, now experience it for yourself!!
Kinesiologyis the science of human movement. Kinesiology Tape uses a uniquely designed tape for treatment of: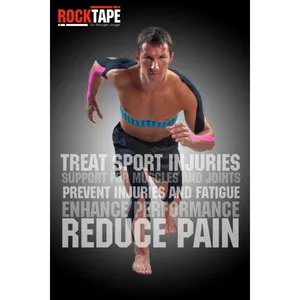 muscular disorders
pain relief
joint support
lymph drainage
RockTape reduces muscle fatique and provides support while it enhances blood circulation without any restriction.
It works by lifting the skin and relieving pressure on pain transmitters. This also promotes lymph drainage to remove toxins produced by the body withstrenuous activity.
In many cases, it allows the individual to work harder for longer periods of time with less discomfort and inflammation.
It is water resistant.Latex and zincfree as well.
Many sports injuries respond well to kinesiology tape, allowing the athlete to remain active, however most applications are actually non-athletic. Once applied, it can be worn up to fivedays.
RockTape is available in many colors and our office can special order any specific preferences. We currently carry the 16.4 foot rolls and can order a larger size roll by request. Please let the Doctor know of any specific questions or interest!