Chiropractic & Massage Therapy Services
At Sheldon Road Chiropractic & Massage Therapy we offer a variety of both traditional and cutting edge therapy services ranging from traditional Chiropractic care and Massage Therapy to powerful new therapies like Spinal Decompression and the MLS laser therapy. Below you will find a list of the services we offer especially after an injury or an auto accident . If you have any questions about these services or the techniques we use in our office please feel free to Contact Us .
Our Services:
CHIROPRACTIC CARE
Our Chiropractic Physicians ( Meet Your Doctors ) can diagnose and treat a broad range of physical conditions in patients with muscular, nervous, and skeletal problems. They are especially well known for safely and effectively treating conditions related to the spine such as back or neck pain through the utilization of Chiropractic manipulation also known as "adjustments" and a wide range of other therapeutic procedures.
Your first visit with our Chiropractors will consist of obtaining a thorough history of you condition, followed by a physical examination to asses your condition or complaint. Often, our doctors will obtain x-rays of the areas of the body that are injured or hurting, this is done on a digital x-ray system which allows for improved image quality and the ability to view problem areas more clearly than traditional film based x-ray. After this process you will sit down with Dr. Kollias, Dr. Derr or Dr. Scaz to review their findings, go over x-rays and be presented with treatment recommendations. Our doctors believe, that well informed and empowered patients lead to better outcomes and they strive to provide their patients with the information needed to improve health and function.
Massage Therapy
Therapeutic massage involves manipulating the soft tissues of the body to prevent and alleviate pain, discomfort, muscle spasm, and stress. At Sheldon Road Chiropractic & Massage Therapy, therapeutic massage is big part of your overall chiropractic treatment plan.
Massage therapy:
Alleviates headache-associated pain.
Helps improve your ability to walk with a normal and balanced gait.
Helps lower your blood pressure.
Improves your breathing as a result of a more relaxed diaphragm.
Improves your range of motion, muscle tone, and flexibility.
Increases your blood flow, which aids in the healing process and allows muscles to work more efficiently.
Reduces stiffness, pain and muscle tension.
Stimulates the body to release helpful chemicals such as endorphins.
Massage has been shown to be an effective treatment for a wide variety of health problems, In some cases, devices may be used to perform massage. Traction massage entails lying on your back on a special table with a pillow under your knees. The table has small rollers that glide up and down your spine. Traction massage helps stretch and massage the muscles in your back, and is not a form of spinal adjustment. In fact, traction massage may sometimes be used to make an adjustment go more smoothly.
For more information about Massage Therapy: Click here
---
DRX 9000 Spinal Decompression Therapy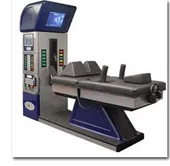 Spinal Decompression Therapy is a powerful, non-surgical solution to patients suffering from back and neck pain associated with spinal disc injuries and disorders.
Spinal decompression therapy is a technique used by health professionals to treat serious back and neck pain conditions. It is utilized primarily for treating disc herniations, disc bulges, sciatica, degenerative disc disease and facet joint syndrome. It also shows promise in treating certain forms of spinal stenosis. If you have been diagnosed with one or more of these conditions please contact Dr. Kollias at Sheldon Road Chiropractic & Massage Therapy in Tampa and arrange a free consultation to see if you are a candidate for this treatment.
For more information about Spinal Decompression: Click here
---
MLS Laser Therapy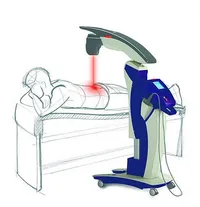 Sheldon Road Chiropractic & Massage Therapy is proud to be one of the only medical clinics in the Tampa Bay area to offer MLS LASER THERAPY utilizing the M6 Robotic Laser.
Laser Therapy is the use of specific wavelengths of light to treat painful and debilitating muscle, bone and joint conditions. The treatment is simple, safe and painless and works through laser light being aimed at damaged or inflamed muscle or joint tissue resulting in stimulation of improved cellular function. The Light energy enters damaged cells and stimulates inter-cellular activity by stimulating production of ATP in the Mitochondria, a small organelle that acts as the "power plant" of the cell. This improved cell function increases circulation and reduces pain and inflammation in the area of injury while also speeding the recovery of damaged cells. Laser Therapy is a painless treatment that only takes minutes to apply.
Many patients see positive results immediately, while most others within just a few treatments. The swelling at the site of injury and pain is usually greatly reduced and there is a rapid relief of pain. Chronic conditions can be controlled with regular treatments and although no therapy works without fail for all patients ,the M6 laser exhibits a high rate of satisfaction on the patients that have been treated with it in our office.
COMMONLY TREATED CONDITIONS:
Back & Joint Pain
Sprains & Strains
Post-Surgical pain control and tissue healing/inflammation control
Arthritis
Disc disease/injuries
For more information about MLS Laser Therapy call our office at 813-884-1457 and we can answer your questions.
---
Percussor Technique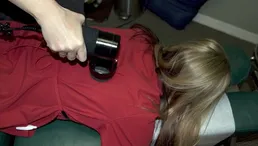 Percussor technique utilizes specific vibratory-percussive forces that targets soft tissue structures surrounding joint capsules, such as muscles, ligaments and tendons. Joint mobilization produces passive movement within the physiological joint space, with the purpose in increasing overall range of joint motion.
Goals for performing Percussor Technique include decreasing painful joints by increasing specific joint range of motion and restoring better elasticity of the joint complex.
This technique involves complete interaction between patient and therapist/doctor and performed "to patient tolerance."
For more information about Percussor Technique: Click here
---
Arthrostim Adjuster
Sheldon Road Chiroptractic is proud to offer the Arthrostim adjusting technique. The Arthrostim is an adjusting instrument that is an alternative to manual adjustments. Many patients aren't comfortable or responsive to traditional hands on Chiropractic techniques. For these patients the Arthrostim provides an alternative that effectively and comfortably delivers the needed spinal adjustment. By delivering a 12-14 hertz impulse, the ArthroStim divides the energy of a single chiropractic adjustment into "rapid successive inputs."
In this way, the Arthrostim allows the doctor to administer a comfortable, effective adjustment without the familiar "popping" or "cracking" which accompanies a traditional Diversified or hands on adjustment.
---
Digital X-Ray via the Fuji XR-C cassette radiography system
Benefits of using digital x-ray include:
Lower dosage x-rays can often be used to achieve the same high quality picture as with film
Digital x-ray images can be enhanced and manipulated with computers and sent via a network to other workstations and computer monitors so that many people can share the information and assist in the diagnosis.
Digital images can be archived onto compact optical disks or digital tape drives saving tremendously on storage space and manpower needed for a traditional x-ray film library
Digital images may be retrieved from an electronic archive for future reference
For more information about Digital X-Ray: Click here
---
Kinesiology Taping
You've seen it at the Olympics, now experience it for yourself!!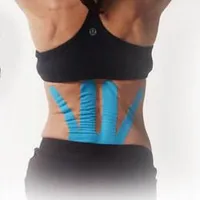 Kinesiology is the science of human movement. Kinesiology Tape uses a uniquely designed tape for treatment of:
muscular disorders
pain relief
joint support
lymph drainage
It works by lifting the skin and relieving pressure on pain transmitters. It supports without restriction and enhances circulation.
It is water resistant and latex free.
Many sports injuries respond well to kinesiology tape, allowing the athlete to remain active, however most applications are actually non-athletic. Once applied, it can be worn up to four days.
For more information about Kinesiology Taping: Click here